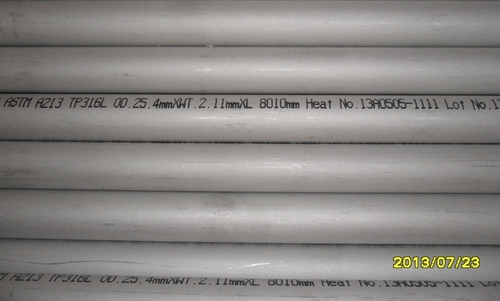 Standard: Specification for seamless ferritic and austenitic alloy-steel boiler, superheater, and heat-exchanger tubes
Size:
O.D.:3.2-127mm 1/8"-5"
W.T.:0.4-12.7mm 0.015"-0.5"
For Low alloy steel Steel Grade,please click
HERE
.
Steel Grade (Austenitic and ferritic stainless steel):
TP304, TP304L, TP304H, TP304N, TP304LN, TP309S, TP309H, TP309LMoN, TP309Cb, TP309HCb, TP310S, TP310H, TP310MoCbN, TP310Cb, TP310HCb, TP310HCbN, TP310MoLN, TP316, TP316L, TP316H, TP316Ti, TP316N, TP316LN, TP317, TP317L, TP317LM, TP317LMN, TP321, TP321H, TP347, TP347W, TP347H, TP347HFG, TP347LN, TP348, TP348H, XM-15, TP444,etc.